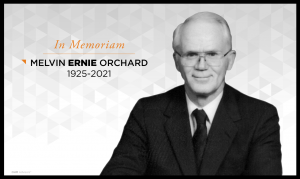 MITA is deeply saddened to bring you the news of the passing on Friday, October 22, 2021, of Melvin E. (Ernie) Orchard—the "O" in OHM Advisors—at the age of 96. Ernie was one of the original founding partners of the firm in 1962 and served as the firm's president from 1972 until his retirement in 1993. He was a beloved face of the firm who championed the importance of creating trusted, lasting relationships with clients since his first days as a practicing engineer.
Ernie graduated from Michigan Technological University in 1949 and began his civil engineering career in municipal public service with both Wayne County and Redford Township before starting his own consulting firm in 1960 with the focus of serving municipal clients.
In 1962 he joined John E. Hiltz and Frank Papke—and, a year later, Bill McCliment—to form John E. Hiltz and Associates, which later became Orchard, Hiltz, and McCliment, Inc. and is known today as OHM Advisors. Under his leadership and through his tenure as the firm's president, the original 20-person firm grew to 100+ staff members and built the foundations of its mission of Advancing Communities.
Ernie was an active member of multiple industry organizations—including ACEC Michigan from his very first days in practice, where he eventually served as president. He actively lived and modeled his motto of being a good steward of the profession and received several awards because of this—very notably, the 2014 Vernon B. Spaulding Leadership Award from ACEC Michigan.
To say the very least, Ernie was a well-respected pillar of our profession and a true mentor to many, both at OHM Advisors and throughout the industry. He leaves a lasting legacy. Memorial details can be found here: Obituary Details – McCabe Funeral Home, Farmington Hill, MI
MITA wishes to extend our condolences to the family.