As the Legislature takes their summer recess each year, it provides a great opportunity for advocacy outside of Lansing and in lawmakers' districts by MITA staff and MITA members. It can also be an ideal time to showcase all the great work MITA members are doing for our state and give policymakers an in depth look at all that goes into maintaining and building our infrastructure. Recently, MITA joined several legislators, including both the Senate and House Transportation Chairman, MDOT, Michigan State Police and other interested parties to two demonstrations of how camera speed enforcement in work zones logistically works.
MITA has been working on legislation to allow for camera speed enforcement within work zones for over a year. Several other states have adopted laws to allow for such devices to be utilized when resources for traditional law enforcement measures are not available. MITA staff, alongside Michigan State Police and MDOT, met with officials from Maryland, Pennsylvania and Illinois to get an idea on the concept of camera enforcement and some of the pros and cons of their experiences. This enabled MITA to draft legislation that could have support of all interested parties. Our findings concluded that camera speed enforcement has tremendous success in slowing traffic down within work zones and ultimately saving lives.
There was a great turnout for both days with over a dozen lawmakers participating. The tech company, Conduent, which administers camera speed enforcement for the state of Maryland, set up a camera unit on M-6 in Grand Rapids where MITA member Kamminga and Roodvoets, Inc., and other subcontractors are reconstructing parts of I-96 and M-6, and the following day on I-69 where MITA member Dan's Excavating, Inc., is working with several other subcontractors where lawmakers witnessed cars traveling from speeds of 52 mph up to 83 mph in a 60 mph construction zone within two short 15 minute presentations. The two presentations gave policy makers an idea of just how fast traffic is going close to workers and also showed how advanced technology for camera enforcement actually is.
The legislation sits in the full House of Representatives currently and MITA staff is hopeful that there will be movement on the legislation this fall.
In addition to MITA staff attending presentations on camera enforcement, we have also met with several lawmakers in their districts over the summer, most recently meeting up with some upper Michigan representatives. While traveling through the U.P. in August, MITA staff met with Representative Sara Cambensy in Marquette. Representative Cambensy is in her third and final term in the House of Representatives and is also the lead sponsor of the camera enforcement bill in work zones. She has always been a supporter of worker safety and witnessed traffic slow down to the proper speed while driving through a work zone in Maryland that had speed camera enforcement throughout the construction zone.
Finally, by invitation from MITA member M&M Excavating Company, MITA staff met with key personnel at M&M and Representative Ken Borton in Gaylord. Discussions were primarily on the need for more investment on all types of infrastructure and on camera enforcement legislation. This is a great example of a MITA member getting engaged with their locally elected officials. I encourage every MITA member to set up a meeting at your office or on a job site with your respective state Representative or state Senator. Your business, and the workers that you employ, are so important to your communities that you are in and elected officials understand that. They need to hear from you and the issues that you are facing every day. MITA can provide talking points and If you need help setting things up or would like to invite MITA staff, please email either Rob Coppersmith or Lance Binoniemi.
If you have any questions or concerns, please contact Rob Coppersmith, Executive Vice President, at robcoppersmith@thinkmita.org or Lance Binoniemi, Vice President of Government Affairs, at lancebinoniemi@thinkmita.org. They both can be reached at 517-347-8336.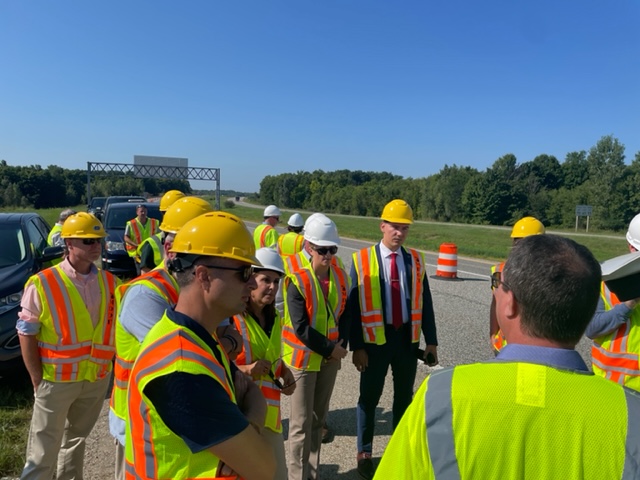 On M-6 in Grand Rapids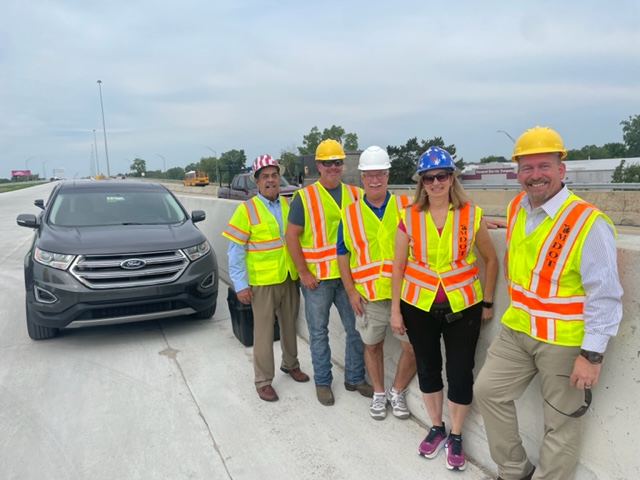 Representatives Tim Sneller, Mike Mueller, John Roth, Cara Clemente and Mike Harris pose alongside I-69 in Flint after receiving a demonstration on camera speed enforcement devices.