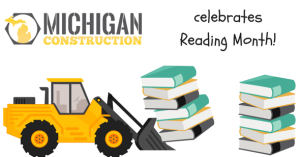 Last year, many companies sponsored or delivered a truckload/s of books to a local Michigan Classroom and we are reaching out to see if your company would like to be a sponsor again for 2023.
Our goal is to give away 100 Truckloads this year and to continue to add construction books to classroom libraries across the state! Last Year, Michigan Construction, with the help of Partners like you, gave away over 92 Tonka size truckloads of elementary-level construction books to deserving teachers across Michigan.
If your company would like to sponsor a truckload/s of books for $175 please click the link below. You can select as many truckloads as you would like to sponsor and your company name will proudly be displayed on every basket.
Your company will also have the opportunity to personally deliver a truckload/s to winning schools!
Here's a blog listing elementary construction books that may be included in the baskets along with a downloadable construction coloring page.

Sponsorships will be open from now through October 15th – Click to Sponsor Today!
Starting Sept 1, Use the link below to invite any teachers you know!
https://www.michiganconstruction.com/truckload-of-books
For questions or more information about the program, please get in touch with Heather Smith at heather@michiganconstruction.com or call her at 989-714-0980.