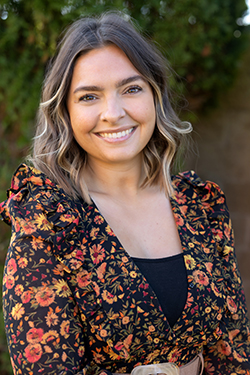 Lindsay Leonard is MITA's latest staff addition, and as Administrative Coordinator she will be responsible for meeting the needs of MITA members in many areas of the association. Her primary function is to help expand efficiencies in the MITA office by providing support services to staff and members.
Lindsay will also be assisting MITA's Director of Safety and Compliance in the processing of MIOSHA Appeals and the execution of related CPR & first aid cards as well as processing requests for other jobsite needs. She will be helping the Events Coordinator with the website and events and related databases. In addition, Lindsay is answering the phones and is providing support to staff and members in a variety of capacities.
Before joining the MITA staff, Lindsay most recently worked as a funeral director for Gorsline Runciman Funeral Home in Lansing. She lives in Grand Ledge with her miniature Australian Goldendoodle, Louise. In her spare time, Lindsay does hair and makeup for events and weddings as a licensed cosmetologist. She also is a Volunteer Victim Advocate for the Lansing Police Department.
You can reach Lindsay by calling the MITA office at 517-347-8336 or emailing her at lindsayleonard@thinkmita.org.