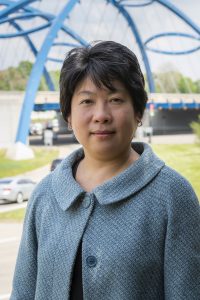 Gorette Yung has been named MDOT Metro Region Engineer.
Yung holds a Bachelor of Science in civil engineering from the Ohio State University and a Master of Engineering in transportation from the University of California at Berkeley. She is a licensed professional engineer in the state of Michigan.
Yung has worked for MDOT since 2001 and brings various experience to the position in a variety of roles:
Served for the past nine years as the Taylor TSC manager.
Previously appointed as the project and contract engineer, as well as Taylor TSC development engineer.
Among Yung's track record of success:
Establishing, fostering, and maintaining effective relationships with internal staff and key external stakeholders.
Working closely with the communities she serves, their residents, businesses, and local elected officials to identify and address their specific needs.
Delivering complex projects on I-275, I-94 and I-96, in addition to maintenance operations on freeways in Wayne County.
Metro Region ties: Yung began her career at a private consulting firm as a traffic engineer and in a metropolitan planning organization in Ohio. She started at MDOT within the Metro Region and worked in the Engineer Development Program during the 2001 construction season. Over the years, she has worked in the Metro Region Development section and served as development engineer, project and contract engineer, and most recently as TSC manager.
Yung replaces Kim Webb, who will retire by end of December after 33 years of services with MDOT.